Cocaine in the News
Coroner: Cocaine in Demme's System by Marcus Errico
In a sadly ironic twist, director Ted Demme--whose final movie was the Johnny Depp drug saga Blow--had cocaine in his system that may have contributed
to his death from a heart attack last month, the Los Angeles County Coroner has announced.
The affable filmmaker collapsed while playing a charity basketball game January 13 at Crossroads School in Santa Monica. He was rushed to a nearby hospital in full cardiac arrest and was pronounced dead shortly thereafter. He was just 38.
Demme's sudden death stunned Hollywood. The initial autopsy from the coroner's office was inconclusive, but indicated the burly director--a former football lineman who carried well over 200 pounds on his sub-6-foot frame--suffered a heart attack most likely triggered by "natural causes."
On Saturday, the coroner's office reiterated that Demme had clogged arteries, which contributed to his fatal heart attack. However, the coroner also announced that new toxicology tests revealed there was a small amount of cocaine in Demme's blood stream that may have also factored into his death.
Demme's death has been ruled accidental.
The nephew of Oscar-winning Silence of the Lambs director Jonathan Demme, Ted Demme's credits included a memorable string of MTV promos featuring Denis Leary and films like The Ref and Life. He won an Emmy for coproducing the 1999 TV-movie A Lesson Before Dying.
His final and best known directorial project was last year's Blow, which was based on the real-life story of notorious cocaine trafficker and Pablo Escobar lackey George Jung.
Demme had been prepping but never commenced shooting on the sea-based thriller Nautica starring Ewan McGregor and Heath Ledger. He can also be glimpsed in a brief cameo in the upcoming New Line film John Q, which stars Denzel Washington as a desperate father whose limited medical insurance doesn't cover his son's need for a heart transplant. That film opens February 15.
Demme's survivors include his wife, Amanda Scheer-Demme, and their four-year-old daughter and two-month-old son.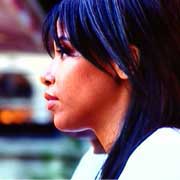 Pilot Of Aaliyah's Plane Had Been Caught With Cocaine, Was Not Authorized To Fly
08.29.2001
The pilot of the plane carrying Aaliyah and seven others from the Bahamas to Florida Saturday pleaded no contest to cocaine possession less than two weeks before the fatal crash and was not authorized to fly the craft.
Aaliyah, pilot Luis Morales III and the other seven passengers, who included the singer's security guard and makeup artist as well as representatives from her record label, were killed when the Cessna 402B crashed shortly after taking off from Marsh Harbour International Airport on Abaco Island (see "Aaliyah Killed In Plane Crash").
Morales, 30, was pulled over on August 7 when he drove his car through a stop sign in Pompano Beach, Florida, according to the Broward County Sheriff's records. The police officer searched the car, found pieces of crack cocaine and booked Morales on a felony cocaine-possession charge, as well as charges of driving with a suspended license and running a stop sign, records show. Morales told the arresting officer he was in the area to purchase powder cocaine for a friend, according to the arrest report.
On August 13, Morales entered a no-contest plea to the possession charge, as well as to a November charge of possessing stolen property, records show. He was given three years' probation, and the judge did not enter a decision on the condition that Morales successfully complete the probation, which included mandatory drug tests, according to the Broward County clerk of courts.
Morales' no-contest plea meant that his pilot's license should have been revoked under Federal Aviation Administration rules, according to FAA spokesperson Kathleen Bergen. While Morales' license hadn't been revoked yet, he was not authorized to fly the plane, which was operated by Blackhawk International Airways, according to Bergen.
Blackhawk is cleared to fly charter planes under a "single pilot certificate," meaning that only one pilot was authorized to fly the plane that crashed, Bergen said. Such certificates are common for small air taxi services like Blackhawk, which only has two planes, she said.
Though she did not identify the authorized pilot, Bergen said it was not Morales. Morales' license qualified him to fly Cessna 402B planes, but he was not on Blackhawk's certificate. Bergen said "it would not be appropriate" for the FAA to release the name of the authorized pilot.
While Blackhawk International is on record as the plane's operator, a company named Skystream is listed as the plane's owner, according to a spokesperson for the U.S. Department of Transportation. Both companies list the same Pembroke Pines, Florida, address as their headquarters. Calls to Blackhawk were not returned, and no phone number was available for Skystream.
U.S. and Bahamian authorities are still investigating reports that engine failure and overloading contributed to the crash (see "Aaliyah Plane Crash Investigation: No End In Sight").
Drugs found in nine-year-old's pocket
Dani Maxwell
13News
Beloit, Wisconsin, May 15 - It was a small amount of drugs, but police say it came from a third grader's pocket. The boy isn't talking to police, and his mom says she has no idea where he got the crack cocaine and marijuana.

However, police aren't ruling out anything. Captain William Tyler says, "We're used to seeing surprising things in this line of work, although sometimes the threshold is unique [in] that we're not expecting to find nine-year-olds in possession of crack cocaine and marijuana."

Captain Tyler says police start teaching drug education to middle school students, so seeing drugs on a child in elementary school is very unusual.

The boy is home with his mother as the juvenile intake center and child protection services will decide what to do next. But they need more information -- like how the drugs got into the child's hands. Tyler says, "We're looking at the home as the primary possibilty as to where he would have obtained it at."
If police find the boy did get the drugs from home, he could be removed and placed in foster care.

Captain Tyler says the student knew drugs were wrong, and teachers say he ran away when asked to empty his pockets.

But does a nine-year-old know how to use drugs?

"A lot of that's is going to depend on the home environment that they're in. Is it possible for a child to know that? Yes, it is. Is it common for most children? No, it's not."

Tyler says the boy is too young to be put in juvenile detention, so he'll probably be educated on drug use. However, some say it does raise the question whether all kids his age need to learn about drugs. "It could be an isolated incident that needs our attention but it may not require an entire shift of when we do our education efforts," according to Captain Tyler.


Bleeth gets probation for cocaine charge By Detroit News staff reports and wire services
Detroit News
1/10/01
Former Baywatch star Yasmine Bleeth was sentenced Wednesday in a Detroit court to two years probation
on a cocaine-possession charge. The sentencing also calls for the actress to undergo regular drug tests, serve 100 hours of community service and pay court costs, said Christopher Coyle, a deputy chief trial attorney for the Wayne County Prosecutor's Office. As part of a plea agreement with the prosecutor's office, Bleeth pleaded guilty in November to possessing less than 25 grams of a controlled substance, cocaine, and to driving while impaired. Another possession charge was dismissed as part of the agreement. Bleeth spent the night in jail in Romulus, near Detroit Metropolitan Airport, after patrol officers found what they suspected was cocaine in her purse during their investigation of a car accident on Sept. 12. Police said charges also stemmed from a subsequent search of Bleeth's hotel room.
Principal Charged in Cocaine Ring
NEW YORK (AP) -- A principal known for her good works and tough words about drug abuse has been charged with running a narcotics ring at her elementary school. Delores Hill, 53, was accused at her arraignment yesterday of being the leader of a small drug ring at the Tabernacle Church of God Elementary School in Brooklyn. Ms. Hill allegedly sold $25 bags of cocaine to an undercover policewoman on school grounds. She was arrested along with the school nurse, a janitor and another worker.

>May 31, 2002
Man brings cocaine on police department visit

>LaPORTE, Indiana -- A sheriff's deputy who checked on a passed-out, snoring man near the department's front desk found a mouthful of evidence when he tried to awaken him: small bags containing "rocks" of cocaine.
In plain view inside the man's mouth were two clear, plastic bags with several smaller bags inside them containing a substance that later tested positive for cocaine, the sheriff's department said.

>Deputies eventually roused Edward O. Green by repeatedly shaking him and speaking loudly. The 24-year-old Calumet City, Ill., man was arrested on preliminary counts of public intoxication and possession of cocaine.
A sheriff's report said Green came to the department's front desk on Friday to post bail money for someone in jail. He was asked to take a seat until someone could help him.

Green sat down and passed out moments later, snoring loudly and slumping against a wall with his mouth open, the report said. When Deputy Andy Hynek tried to awaken Green, he noticed alcohol on Green's breath and the bags inside his mouth, the report said. Green was released from jail on bond. >Cocaine Use May Lead to Overheating
Mon Jun 3, 5:35 PM ET
NEW YORK (Reuters Health) - Cocaine appears to impede the body's built-in temperature regulating system, causing users to become overheated, researchers report.

The use of the illicit drug also impairs a person's ability to recognize a rise in their own body temperature, according to the report in the June 4th issue of the Annals of Internal Medicine.

>"Individuals who abuse cocaine, especially in hot temperatures while participating in recreational sports or attending rave parties, won't perceive that they are hot and are, therefore, less likely to drink water or to find cooler conditions," lead author Dr. Craig G. Crandall of the University of Texas Southwestern Medical Center in Dallas said in a prepared statement.

"The hyperthermic effects of cocaine are greatly amplified when the drug is used under these conditions. This may result in serious heat-related injuries, including heat cramps, heat exhaustion, heat stroke and, ultimately, death," he added.

Crandall's team studied the effect of cocaine or an inactive placebo on the body temperature regulation systems of seven healthy volunteers between the ages of 23 and 37. None of the study participants had used cocaine previously.

Study participants first wore a heated partial-body suit that raised their body temperature. They were then given cocaine or placebo via the nose, in a dose smaller than that typically taken by cocaine users. Then the researchers monitored the study participants' body temperatures and perspiration and asked them how hot they were feeling.
Crandall's team found that cocaine boosted body temperature by impairing sweating and blocking the increase in skin blood flow usually brought on by raised temperatures. Moreover, cocaine impeded a person's ability to perceive excessive heat, which is a key body temperature control mechanism.

The precise mechanism by which cocaine causes these basic bodily functions to falter remains to be completely understood, the author's note.

Crandall and colleagues note that because the study was conducted only in healthy people who had never used cocaine, "the results may not be applicable to persons with long-term cocaine use."
> >Jamaica's war on drugs goes high-tech: New scanners lead to arrest of five smugglers >Within hours of new drug detection equipment being installed at Jamaica's two international airports last weekend, five suspected smugglers were in the bag. The five "mules" were all headed for Britain and ironically were caught by new technology provided by the British government under a new anti-drug deal struck between the two countries.
The ion scanners came into use on Saturday, and by Sunday had caught three female suspects at Kingston's Norman Manley airport and two males at Montego Bay's Sangster International airport, the main gateway in and out for the millions of tourists who visit the island each year.

Four of the suspects were Jamaicans and one was British. All had - in true drug-mule fashion - apparently swallowed the drug in either condoms, balloons, or the cut-off fingers of rubber gloves, a high-ranking Jamaican police officer said in a telephone interview yesterday.

The scanners and other measures are part of a new initiative against drugs, particularly cocaine, which has made Jamaica one of the major transshipment points for smugglers moving the Latin American-produced cocaine into the lucrative markets of North America and Europe.

In a meeting with The Star's Editorial Board recently, Jamaica's Minister of National Security Peter Phillips revealed that an estimated 10 per cent of the 1 million kilograms of cocaine that in 2001 went into Canada, the United States and Europe from Latin America, flowed through relatively small Jamaica, which did not produce any of the cocaine.

In return, the narco-terrorism spawned by the gangs raking in astronomical profits from handling the in-transit drug shipments, has caused huge crime and violence problems, mainly in the island's capital city, Kingston.
Last year, Jamaica had more than 900 murders, mainly linked to warring gangs, fighting for control of the drug that is brought in by boat and plane from South and Central America. It is then broken down and couriered out by mules, or by amateurs among the millions of tourists that visit Jamaica each year. Three Canadians have already been jailed in Jamaica this year for exporting drugs.

Two were headed here and one to Britain. Last year, 38 people, 36 of them Canadian, were arrested while headed for Canada with cocaine or other illegal drugs. In total, 405 people were caught leaving Jamaica with drugs last year and up to last Friday, 295 had been nabbed this year. All of those were caught with the "old methods," Donovan Nelson, an assistant to Phillips said in a telephone interview yesterday. "Officers watched for people who had a certain profile, and did checks based on nervousness, on information supplied, and on a hunch," Nelson said.
The ion scanners work by swabbing the hands of passengers and analyzing the swabs, Nelson said.

The results show even the most finite contact with narcotics. Suspects are then x-rayed to determine the presence of swallowed drugs, undergo body searches and have their luggage searched by officers and sniffer dogs. "What is even more alarming is that this illegal industry is now serving to tarnish and destroy the image of our country and vital national institutions, including our airlines and our shipping industry," Phillips said. "The entire good name of our country, built up by previous generations, is being tarnished by the activities of unscrupulous persons who continue to dupe the unsuspecting and misguided into becoming couriers to satisfy their own greed."

>May 01, 2002
Coast Guard captures 3,244 pounds of cocaine
KEY WEST, Fla. - (AP) -- The U.S. Coast Guard unloaded 3,244 pounds of seized cocaine Wednesday and transferred the four suspected smugglers to U.S. Department of Justice officials. The smugglers' 40-foot, go-fast boat was captured 200 miles off the east coast of Nicaragua Friday. Forty-nine bales of cocaine were found onboard the boat. Coast Guardsmen took the suspects and the contraband into custody and then destroyed the vessel as a hazard to navigation. The Coast Guard's Operation New Frontier has seized 85,400 pounds of cocaine nationwide this year.

Wilson Pickett has been indicted on cocaine possession charges,
nine months after police said they found 2 grams of the drug in a nightstand at his home.
No arraignment date was set for the 55-year-old Mr. Pickett (see photo). If convicted, the singer known for such hits as "In the Midnight Hour" and "Mustang Sally" could be sentenced to up to five years in prison.
Police searched the Hackensack, NJ, home last April after finding a partially clad and bleeding woman nearby, screaming about Mr. Pickett. The woman, who sometimes lived with Mr. Pickett, said she was injured when she fell on a glass table and did not press charges.
The indictment Tuesday was the latest in a series of legal troubles for the Rock 'n' Roll Hall of Famer.
Mr. Pickett pleaded guilty in July to being under the influence of cocaine while serving five years' probation for hitting an 86-year-old pedestrian while driving drunk in 1992. His parole was revoked and he spent a month in jail in September

March 12, 2002
Strawberry Lands Back In Jail
Police jailed former baseball star Darryl Strawberry Tuesday, his 40th birthday, after he was expelled from a Florida drug treatment center. This is the latest legal tangle for the ex-athlete who has battled drugs and cancer. Marion County sheriff's deputies arrested Strawberry after officials at the Phoenix House rehabilitation center in Ocala, Fla., told them the former New York Yankees' and Mets' slugger had violated the terms of his court-ordered treatment program.

"Mr. Strawberry is a resident of the Marion County Jail," sheriff's spokesman Lenny Uptagraft said. "He had been a resident of Phoenix House, completing a drug program. We received reports that he was not in compliance with the terms of his treatment." Uptagraft said Strawberry, who turned 40 Tuesday, was being held without bond for violation of community control. He said officials at the drug treatment center had not detailed Strawberry's noncompliance with his program. As deputies were escorting him to the jail on Tuesday, Strawberry said he was confused by his arrest, the Ocala Star-Banner reported. "They just said I was discharged from the program," Strawberry said outside the jail. Strawberry said he had not been accused of fighting or other infractions at the center. Strawberry was sent to Phoenix House in May 2001 by a judge in Tampa for violating his probation.

Ruling against a request by prosecutors to send Strawberry to jail, Hillsborough County Judge Florence Foster said at the time: "You're at bat in the bottom of the ninth inning with two strikes against you. You have proven you're a winner on the field. Now you must prove you're a winner off the field." Strawberry struggled with drug abuse, colon cancer and depression during and after a 17-year big league career with the Yankees, Mets, Los Angeles Dodgers and San Francisco Giants.

Strawberry started his career with the Mets and during his eight seasons with the team won the 1983 National League Rookie of the Year award, played on the 1986 World Series championship team and led the National League with 39 homers in 1988. In his career, he hit 335 home runs and had 1,000 RBI. He was playing for the Yankees when he failed a drug test in February 2000 and was suspended for the season by Major League Baseball. He was arrested in April 1999 in Tampa on charges of soliciting a prostitute and cocaine possession. He pleaded no contest to the charges and was put on probation. In September 2000 he was put under house arrest after he admitted driving under the influence of medication.

Strawberry, a father of five, said at a court hearing in November 2000 that he had given up hope and wanted to die when he was arrested for violating his probation. At his sentencing hearing last year, Strawberry described himself as "very sick" and in need of help. But prosecutors asked that Strawberry be confined to prison, saying it was a necessary step to save his life.


July 16, 2001
Downey Cops Plea; Gets Probation
Robert Downey Jr. pleaded no contest to two cocaine-related charges Monday in a plea bargain that will keep the award-winning actor out of jail.

"This is not a gift of the court, this is going to be hard work," Superior Court Judge Randall White told the actor. Under the deal, Downey pleaded no contest to one count of possessing cocaine and one count of being under the influence. A third charge was dropped. In exchange, Downey was sentenced to one year in a live-in drug rehabilitation program, three years of probation, will have to pay a series of fines and was ordered to comply with a set of regulations including random drug testing. White explained the terms of the deal and warned Downey he could go to prison for up to four years if he violated the terms of the deal. Asked if he understood the terms, Downey replied: "I'm well aware, your honor."

Downey, 36, was arrested at Merv Griffin's Resort Hotel and Givenchy Spa in Palm Springs during last year's Thanksgiving weekend. Authorities allegedly found the drugs in his hotel room after receiving an anonymous call.

The deal was struck under Proposition 36, which California voters approved last year. It removes the threat of prison for drug offenders unless they are charged three more times with drug violations or repeatedly fail to cooperate in treatment programs.

June 2, 1993
Cocaine-Tainted Cash Faulted as Evidence
Wall Street Journal
By Arthur S. Hayes

Chances are pretty good that there are traces of cocaine in your wallet right now.
And that's bad news for drug prosecutors. The problem is that cocaine sticks to cash whenever money is handled by drug dealers and users. And studies show that cocaine is in such wide use nationally that a sizable percentage of paper money bears traces of it--a finding that courts are starting to cite in ruling against prosecutors.
Within the past 18 months, two federal appeal courts have strongly questioned the government's reliance on cocaine-tainted cash. And in a ruling in April, a federal trial judge said the mere presence of such cocaine traces doesn't give officials the necessary "probable cause" to launch an extensive search for drugs or to confiscate the cash.


Nancy Hollander, president of the National Association of Criminal Defense Lawyers, said, "We're going to see more and more lawyers using these rulings in arguments to suppress evidence by challenging the validity of dog sniffs [detecting cocaine] and confiscation of cash."
The court decisions cite the findings of scientific and informal tests conducted in the late 1980s. Some of the tests showed that more than 95% of the cash in circulation is cocaine-contaminated because residue from the drug remains long after the initial exposure.


One of the studies that has proved more damaging to prosecutors was done by Sanford A. Angelos, a forensic chemist with the federal Drug Enforcement Administration's North Central Laboratory in Chicago. The study, which the agency has dismissed as "just one man's unscientific assessment," concluded that a third of the samples taken from several Chicago banks and from the Federal Reserve Bank of Chicago were contaminated. The tests results were reported in an undated internal DEA memo and first surfaced publicly as evidence in a trial in Los Angeles three years ago.


In the memo, Mr. Angelos said the belts of the bill sorter at the reserve bank were spreading the contamination to more and more cash. Mr. Angelos recommended, among other things, that "trace analysis of currency for general enforcement or seizure be stopped." The Angelos study was recently cited by the attorney for Willie L. Jones, a Nashville landscaper who went to court to recover $9,000 that U.S. drug agents seized from his in 1991 under the federal Racketeer Influenced and Corrupt Organizations law. As in many cash-seizure cases, Mr. Jones had been stopped at an airport while he was waiting to catch a flight. The RICO law allows the government to seize cash from people suspected of certain crimes, on the theory that the assets are related to criminal activity.
In April, in apparently the first ruling of its kind, Judge Thomas A. Wiseman, Jr. of federal court in Nashville ordered the government return the cash to Mr. Jones. The judge said in his ruling that "the presence of trace narcotics on currency does not yield any relevant information whatsoever about the currency's history."
Michael L. Roden, an assistant U.S. attorney in Nashville, said no decision had been made about appealing Judge Wiseman's ruling.


The Sixth U.S. Circuit Court of Appeals in Cincinnati also raised questions about the use of cocaine-tainted cash as evidence in a decision in January involving the seizure of $53,082. The court cited, among other studies, a test conducted four years ago by Lee Hearn, chief toxicologist for the Dade County medical examiner's officer in Miami. In a study of currency from banks in cities around the country, Mr. Hearn concluded that 97% of the bills tested positive for cocaine.


The Sixth Circuit panel said that because of such tests, "a court should seriously question the value of a dog's alert [indicating cocaine] without other persuasive evidence." The appeals court panel threw out the seizure as unconstitutional on other grounds. The U.S. Attorney in Detroit yesterday asked the entire appeals court to review the panel's decision.


The U.S. Court of Appeals for the District of Columbia raised similar doubts about the use of cocaine-contaminated cash as evidence in a case last year. Citing the studies, the court said the government had conducted an improper search and seizure in taking cash and other items from a traveler on a train.


Prosecutors' reliance on such evidence prompted a state appeals court in Miami to go so far as to overturn a drug-possession conviction in April. The court ruled that a cocaine-contaminated dollar bill wasn't enough evidence to sustain a drug-possession conviction in south Florida where "cocaine can be found on much of the currency." Prosecutors in Florida said they wouldn't appeal the state appeals court's reversal of the drug conviction.
Theodore S. Greenberg, chief of the Justice Department's money-laundering section, said the recent rulings haven't discouraged the government's use of cocaine-tainted cash as evidence. "Yes, we'll continue to use these techniques as is necessary in all the cases," Mr. Greenberg said.


One reason, prosecutors say, is that other evidence usually backs up seizure of cash in such cases. For instance, they argue that in many cases where currency is seized, the suspects have previous arrest records or can't explain whey they are traveling with such large amounts of cash.